Making payments
We offer a wide range of payment options. Common to all online options is that they are protected by a strong SSL encryption. You can pay with the following:
Dankort, MasterCard, Maestro, Visa, Visa electron, JCB, eDankort and MobilePay by Danske Bank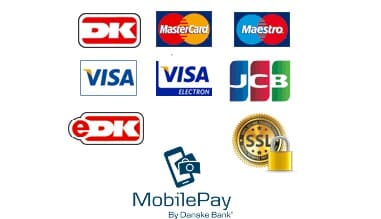 EU rules on card payments change - security improves with 3D secure
You may have noticed that you now need to identify yourself more often when paying by card in webshops. This is done to make card payments more secure and is due to the introduction of Strong Customer Authentication (SCA) as part of PSD2. SCA means that you must present two forms of identification, known as "two-factor authentication", when you pay online.
The process is not much different from what you know:
1. Start of payment. You enter your card details and fill out the payment form as usual.
2. Verification of payer
If verification is required for payment in accordance with the SCA rules, 3D Secure will be used to verify you. This can be done using a different method such as NemID (for Danish customers) or a one-time code via SMS, depending on which methods the bank supports.
3. Completion of payment. Once your identity is confirmed with 3D Secure, the transaction can be completed.